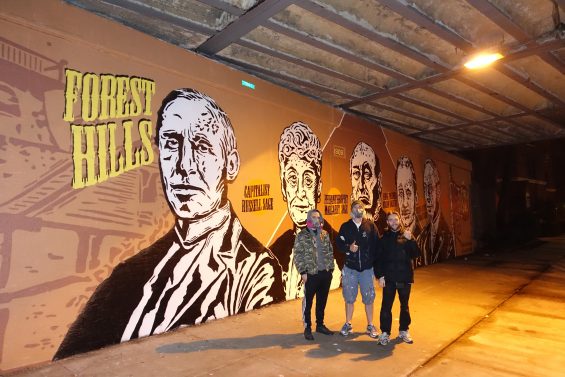 April 6, 2017 By Hannah Wulkan
A mural honoring the history of Forest Hills has gone up under a previously neglected overpass in the neighborhood.
Local historian Michael Perlman spent the last few months fundraising to add a mural honoring five figures essential to Forest Hills history to the wall under the Ascan Avenue Long Island Rail Road overpass. The wall, located between Austin and Burns streets, is titled "A Tribute To Ascan Avenue & The Forest Hills Gardens."
The mural, which was completed Tuesday by artists Crisp and Praxis, depicts five people who helped shape the neighborhood. The two figures depicted on the left of the mural are Russell Sage, a businessman, and his wife Margaret Olivia Slocum Sage, a philanthropist, who originally bought the land that was later developed in to Forest Hills Gardens.
In the center the mural is local 19th century farmer Ascan Backus who Ascan Avenue is named after, and on the right the mural depicts architect Grosvenor Atterbury and urban planner Frederick Law Olmsted, Jr. who designed Forest Hills Gardens.
"I wanted to pay tribute to our early history in a creative way," said Perlman, who wrote a book on the history of Forest Hills and Rego Park that was published in 2015. "I hope it will serve as an inspiration to current and future generations while bearing homage to our past."
The 75-foot wide mural was designed as a collaboration between Perlman and the artists, who also painted a mural of the Ramones, who hail from Forest Hills, on 71st Avenue. In addition to depicting the historical figures, it shows the Backus family barn, which stood where Walgreens currently sits on Queens Boulevard, and a historic street lamp of Forest Hills Gardens.
Perlman said that they also gathered feedback from the community on the design and worked to ensure that the color scheme and style of the mural complemented Forest Hills Gardens.
Over the course of several months, Perlman raised about $4,000 to fund the mural through a series of fundraisers throughout the neighborhood and through donations from local businesses and residents.
The artists began painting on Sunday and completed the mural by late Tuesday night, Perlman said.
3 Comments
Click for Comments